Hexon Pre-Preg Carbon Fibre Engine Strut Brace - BMW G80 | G81 M3 | G82 | G83 M4
Regular price
$1,605.00 USD
Sale price
$1,605.00 USD
Regular price
Unit price
per
Fitting Available - Please email sales@evolveautomotive.com for a quote.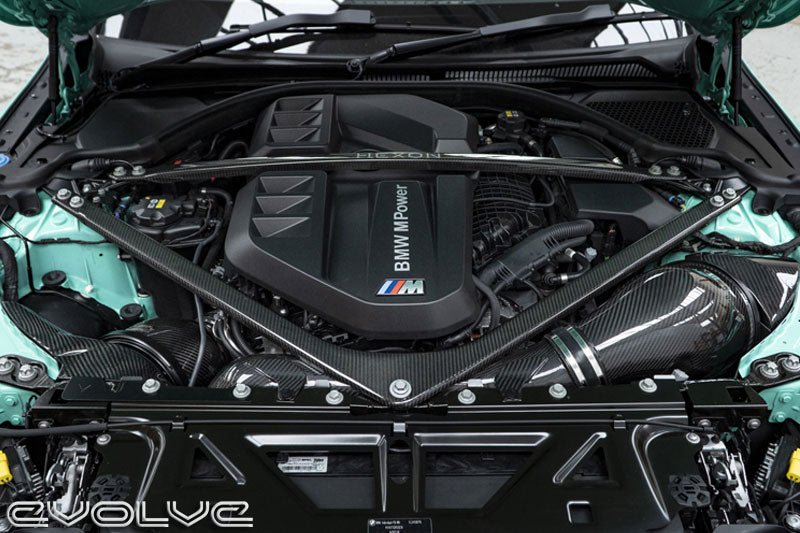 Hexon's G80, G81, G82, and G83 Carbon Fiber Strut Tower Braces are made from premium Pre-Preg Carbon Fiber. They are an OEM fitment replacement of the stock Steel braces.
Weight saving of 4.8 kg when compared to the 7kg on the OEM strut brace.
Hexon's Strut tower braces were tailored to fit the G8X engine bay and improve its aesthetics while also adding lightness. They are the ultimate no-compromises solution to the less than perfect looks of the OEM steel braces. They are a direct replacement to the OEM part using the original studs and bolt.
Hexon's strut tower braces were designed using high fidelity 3D scan data and the latest CAD software packages. They are produced using high-quality moulds made from Pre-Preg Carbon Fiber. Prepreg moulds are used because they have a perfect zero coefficient of thermal expansion, which is critical for use in high-temperature autoclave processing.
Because the parts are made under the immense heat and pressure of an Autoclave, they have the highest level of laminate consolidation and extreme heat stability. The superior consolidation creates a superior weight to strength ratio. The heat that the prepreg is processed at creates a laminate that is molecularly stable well above typical engine bay temperatures- a critical feature for a part that will experience countless heat cycles in an engine bay.

What Makes Pre-Preg Special?
Hexon strictly uses Pre-Preg Carbon Fiber simply because it yields the lightest and strongest composite parts possible. Additionally, the resin matrix of our Pre-Preg system is UV stable- this combined with our UV blocking Lacquer results in a part that will resist fading for more than a decade, unlike less expensive composite processes.
Thanks to the properties of Pre-Preg before it is cured, it also allows Hexon's team to be more precise with our lamination processes resulting in a part that looks better and is more consistent in its mechanical processes. Additionally, because Pre-Preg is pre-impregnated with the perfect amount of resin from the factory, there is never too much or too little resin in the laminate.
All of these factors combine for the result of a superior part with less waste than traditional lamination methods.
Features
Coated in high-quality Porsche certified clear coat products hand-applied with the highest quality Anest Iwata SuperNova Spray gun.
Premium Evonik Industries Rohacell core materials.
Hand laminated 2x2 twill Pre-Preg Carbon Fiber.
OEM Fitment and installation.
3-year manufacturer defect and fitment guarantee.