Eventuri Carbon Fibre Intake System - Audi B8 RS4 | RS5
Regular price
$2,722.00 USD
Sale price
$2,722.00 USD
Regular price
Unit price
per
Fitting Available - Please email sales@evolveautomotive.com for a quote.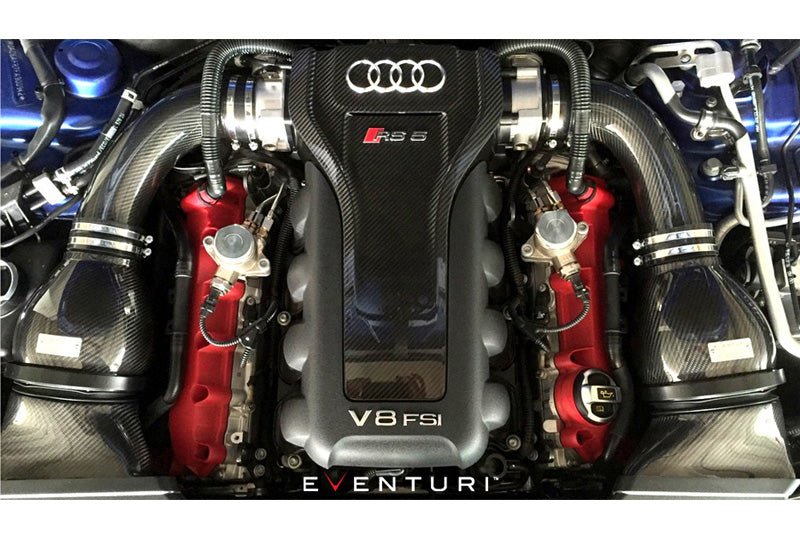 The Audi RS5/B8 RS4 Eventuri intake was developed after consultation and support from RS5 enthusiasts. Eventuri have completely re-engineered the inlet track from the ducts to the filters and the inlet tubes. The restrictive stock airboxes and duct feeds have been replaced with a highly efficient – fully sealed system with smooth transitions to allow the airflow to remain full and laminar. The resulting performance gains, sound and aesthetics are industry leading for this platform.
The Eventuri Difference
The RS5/RS4 Eventuri intake system uses their Patent Pending pre-preg carbon fibre housings which provide an aerodynamically efficient airflow path from the filters to the throttle bodies. Not just another cone filter with a heat shield but a unique design which invokes the Venturi affect.
Each intake system consists of: 
2x Carbon Fibre Venturi housings
2x High Flow Double Cone Air Filters
2x Aluminium Cowls for smooth airflow entry
2x Carbon Fibre Inlet Tubes with integrated breather attachments
2x Carbon Fibre Intake Ducts
2x Carbon Fibre Front Scoops
2x Laser Cut Stainless Steel Scoop Extension Plates
Laser Cut Heat Shields with Heat Reflective Lining
High Quality Silicon Couplers and OEM Spec Hose Clamps
Breather Hose Removal Tool