Eventuri Carbon Fibre Intake System - Mini F54 | F55 | F56 Cooper S | JCW LCI
Regular price
$1,734.00 USD
Sale price
$1,734.00 USD
Regular price
Unit price
per
Fitting Available - Please email sales@evolveautomotive.com for a quote.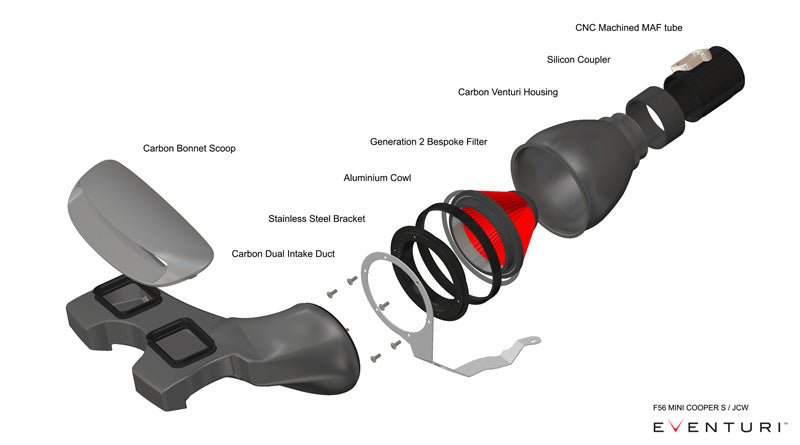 F5X MINI COOPER S JCW
Performance Increase Cooper S: 8-15hp, 15-25ft-lb
Performance Increase Cooper JCW: 15-27hp, 20-26ft-lb*
V-Box Acceleration Cooper S : 60-130mph Reduced By 0.6 Seconds
The F56 MINI Eventuri intake system is another example of our "Complete System" principal. It is a sealed system which ensures that the turbo does not draw hot air from the engine bay but enhanced with a functional bonnet scoop which forces ambient air into the intake duct. This duct has a larger internal volume than the stock version and also draws air from the stock location above the radiator. The combination of a sealed system with an air scoop results in lower intake temperatures than the stock airbox and avoids heat soak which is a common issue especially on higher powered MINIs. To ensure the smoothest flow possible we use our Patented filter housing coupled with a CNC machined MAF tube to ensure the smoothest possible flow to the turbo.
The Eventuri Difference
The F56 MINI Eventuri system uses our Patented Carbon fibre Housing which provides an aerodynamically efficient airflow path from the filter to the turbo. Not just another cone filter with a heat shield but a unique design which invokes the Venturi affect and maintains laminar flow conditions to reduce the drag on the turbo. 
* The JCW tested had a stage 2 map and downpipe. Performance gains measured with these modifications fitted for both stock airbox and Eventuri.